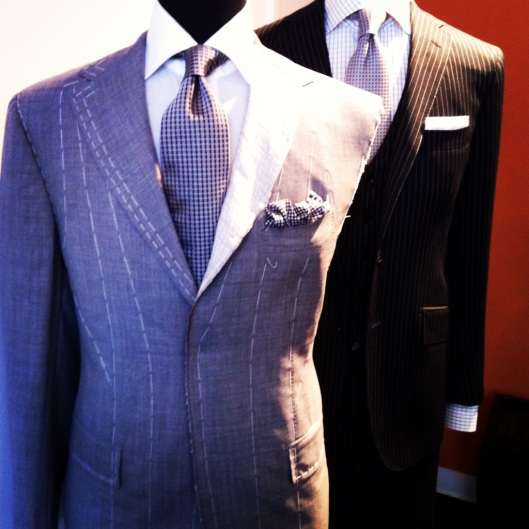 The joy of making a custom suit is unparalleled. At John The Tailor every custom made suit is individually hand- cut on individual paper patterns, based on your exact measurement and posture specification to insure a one of a kind fit. Our custom made suits are created in the old fashion manner and rich with specialized techniques and a flair that has been refined by legend master tailors. The sewing machine does a few seams, the rest, the collar, the lapels, and the interior lining are all done by hand, and built on full horsehair canvas. This is our tradition, our attitude that has been repeated over the years enlivened by a passion for quality. Once we achieve the perfect fit, we will keep the individual pattern in file for the further inquiries.
As todays fashion is increasingly dominated by mass produced suiting that does little to reflect a man's personal style and fit, our bespoke and custom made suits exhibit a unique style and allure.
Styles include classic three- button single-breasted suits, double-breasted blazers & suits, and contemporary two-button single-breasted suits for men, and double-breasted long jackets and single-breasted short jackets for women. Cuts can be from international fashion houses, magazine or custom designed in-house with your reference as our guide.
We offer you a unique opportunity to customize a tailored clothing, you can select the fabric, lining and silhouette to your precise tastes. You can specify what type of lapel, a peak or notch lapel, a side vent, center vent or no vent, a vest or an extra pair of trousers, number and style of pockets, numerous lapel shapes with hand top stitches, and working buttons-hole on your jacket sleeves. The result is a unique and truly customized piece of clothing that reflects the individuals' sense of style.
Value – Considering all of the advantages, a bespoke/ custom made suit is truly priceless, a far better value than ready-made and in some cases even lower in price than expensive designer suits.
---
Limited Lifetime Maintenance Guarantee for your Bespoke Clothing
We would like to ensure that you look and feel your best in every piece of bespoke clothing. That's why we provide limited complimentary maintenance and repairs to you, the original client, for the lifetime of the bespoke clothing. If you ever find yourself in need of having a seam, or a hemming fixed, a button replaced, please simply drop by our tailor shop where our professional tailors will attend to it as soon as possible, this service is on-site and free of charge.