Bespoke/ custom made suits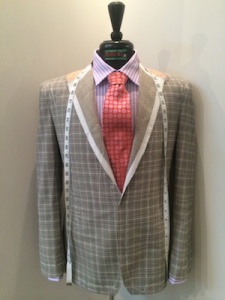 The joy of making a custom suit is unparalleled. At John The Tailor every custom made suit is individually hand- cut on individual paper patterns, based on your exact measurement and posture specification to insure a one of a kind fit. Our custom made suits are created in the old fashion manner and rich with specialized techniques and a flair that has been refined by legend master tailors. The sewing machine does a few seams, the rest, the collar, the lapels, and the interior lining are all done by hand, and built on full horsehair canvas. This is our tradition, our attitude that has been repeated over the years enlivened by a passion for quality. Once we achieve the perfect fit, we will keep the individual pattern in file for the further inquiries.
As todays fashion is increasingly dominated by mass produced suiting that does little to reflect a man's personal style and fit, our bespoke and custom made suits exhibit a unique style and allure.
Styles include classic three- button single-breasted suits, double-breasted blazers & suits, and contemporary two-button single-breasted suits for men, and double-breasted long jackets and single-breasted short jackets for women. Cuts can be from international fashion houses, magazine or custom designed in-house with your reference as our guide.
We offer you a unique opportunity to customize a tailored clothing, you can select the fabric, lining and silhouette to your precise tastes. You can specify what type of lapel, a peak or notch lapel, a side vent, center vent or no vent, a vest or an extra pair of trousers, number and style of pockets, numerous lapel shapes with hand top stitches, and working buttons-hole on your jacket sleeves. The result is a unique and truly customized piece of clothing that reflects the individuals' sense of style.
Value – Considering all of the advantages, a bespoke/ custom made suit is truly priceless, a far better value than ready-made and in some cases even lower in price than expensive designer suits.
Custom made shirts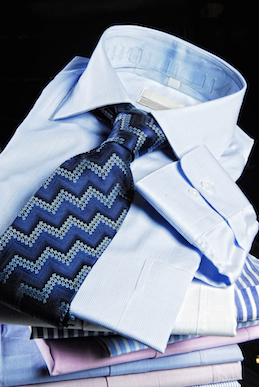 A custom made shirt distinguishes your suit and wardrobe, and its importance, its significance ranks as high as the suit itself. A poor shirt can ruin a top-notch suit.
A custom made shirt create at John The Tailor to your individual measurements your posture, and shoulder slope specification fits perfectly, to compliment your body shape. Our custom made shirt's Collar set properly, and your chest and waist fit precisely, neither be too tight nor too baggy.
The fit of a custom shirt is only part of the equation, the other part, which is just as important and critical is the fabric. Our extensive selection offers you the most contemporary colours and patterns of the finest fabrics, such as poplins, linens, Sea Island cotton, and 2- ply Egyptian cotton to name but a few, all made in Italy and England. You could choose your colour and texture to reflect your sense of style.
John The Tailor has an outstanding selection of cuffs and collar styles from classic Italian forward points, English Broad collars to button downs, spread or cut away collars, open neck collars, point width, with long or short sleeves, and classic single cuffs or French cuffs. Pockets, buttons, front and back finishing details, monogramming are also available, and truly customizable to reflect your sense of style.
Hand sewn neckties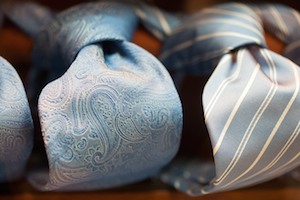 The choice of a correct tie for your everyday business and occasion would reflect your prestige, character and your wardrobe. At John The Tailor, we only carry the finest, and beautiful hand sewn 100% pure silk neckties.
We also carry a verity of 100% pure silk neckwear and pocket square hand crafted by Dion. You can customize the width of your tie from classic 3 ¼ inches to 2 ½ and 2 inches.

Accessories
At John The Tailor we carry several accessories to complement your custom made creation.
 
High quality leather belts, braces, and suspenders.
Handkerchiefs and 100% pure silk pocket squares
High quality and elegant cufflinks and tie bars.
Various buttons.
High quality and colour full Dion's socks
---
Limited Lifetime Maintenance Guarantee for your Custom Tailored Clothing
We would like to ensure that you look and feel your best in every piece of clothing that you custom tailored with us. That's why we provide limited complimentary maintenance and repairs to you, the original client, for the lifetime of the custom made clothing. If you ever find yourself in need of having a seam, or a hemming fixed, a button replaced, or other minor alteration done, please simply drop by our tailor shop where our professional tailors will attend to it as soon as possible, this service is on-site and free of charge.